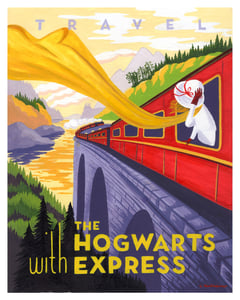 $

50.00
Traveling by train is awesome enough. Can you imagine going to Platform 9 ¾ to catch a ride on The Hogwarts Express?
* * * *
This is an 18"x22.5" print on archive watercolor paper with a matte finish and a white border.
Orders are made-to-order, so it takes about 3 weeks to ship out.
* * * *
At the moment, since Gallery Nucleus is no longer selling the print on their online store, you can only order this print from this Etsy shop. It's a temporary solution until Gallery Nucleus can start selling the print again.